[Note: the Wood & Rush retail outlet is now closed.]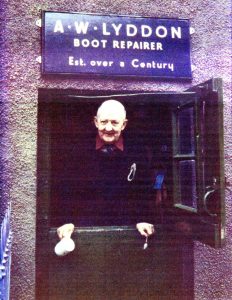 In 1918 Arthur 'Chuckie' Lyddon pictured here, joined the family business, believed to have been started by his great-grandfather. Lyddons were shoemakers in the 1851 Census. Arthur retired in 1979, ending the family tradition of well over 120 years. 'There are no cobblers left' he told the Express and Echo in an interview in 1980. 'It is a pity. They will always be wanted'. Since then, Patrick McCormack had a bookshop here. Bill Peardon, then Jim and Julie Forsey used it as a store for the Moorland Dairy when it was across the road, and Patrick Hawkesley, silversmith, used it as a workshop.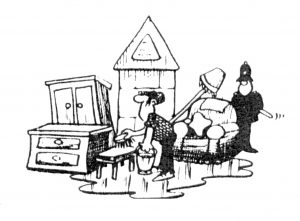 July 1931: 'Parish Council discussed nuisance caused by resident washing furniture at fountain' Cartoon: Chris Guy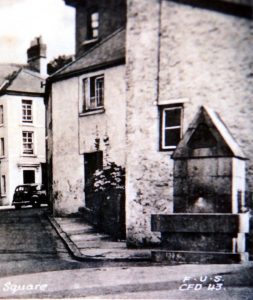 Finally in 1992, Pete Montanez and Linda Lemieux turned it into today's Wood and Rush, a woodturning and basket making business, where these skills are taught as well.