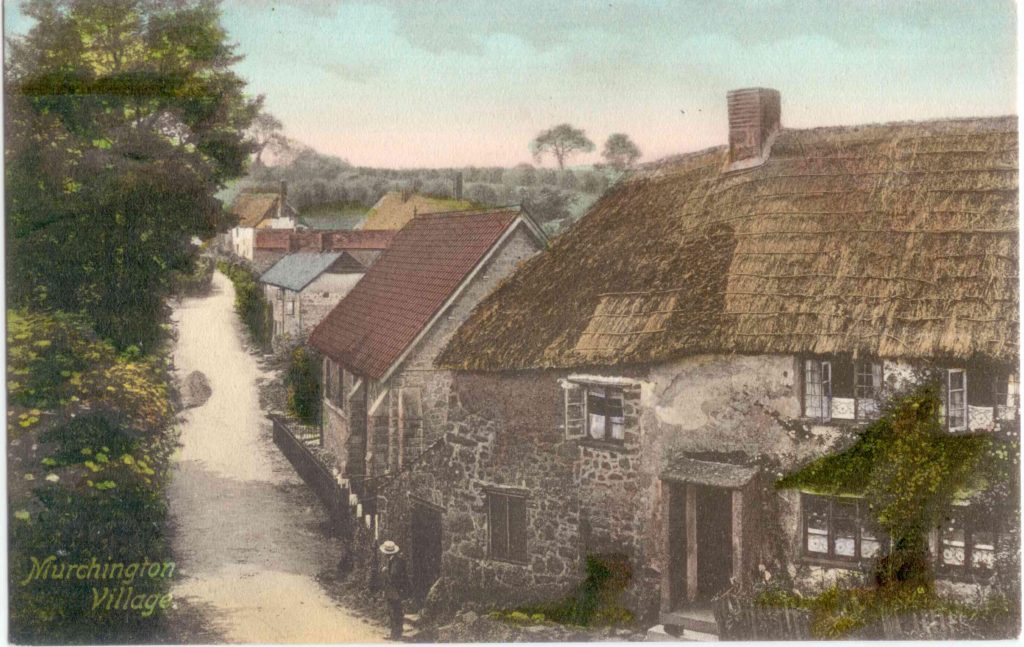 The hamlet of Murchington lies just outside the parish of Chagford, which is bounded on its northern edge by the course of the River Teign. But though it lies within the parish of Throwleigh, the pull of the larger, and much nearer settlement of Chagford must always have ruled here. Even before Chagford Bridge was first built at the bottom of Walland Hill (probably in the early thirteenth century), the Teign was no real barrier as it could be forded at various points hereabouts.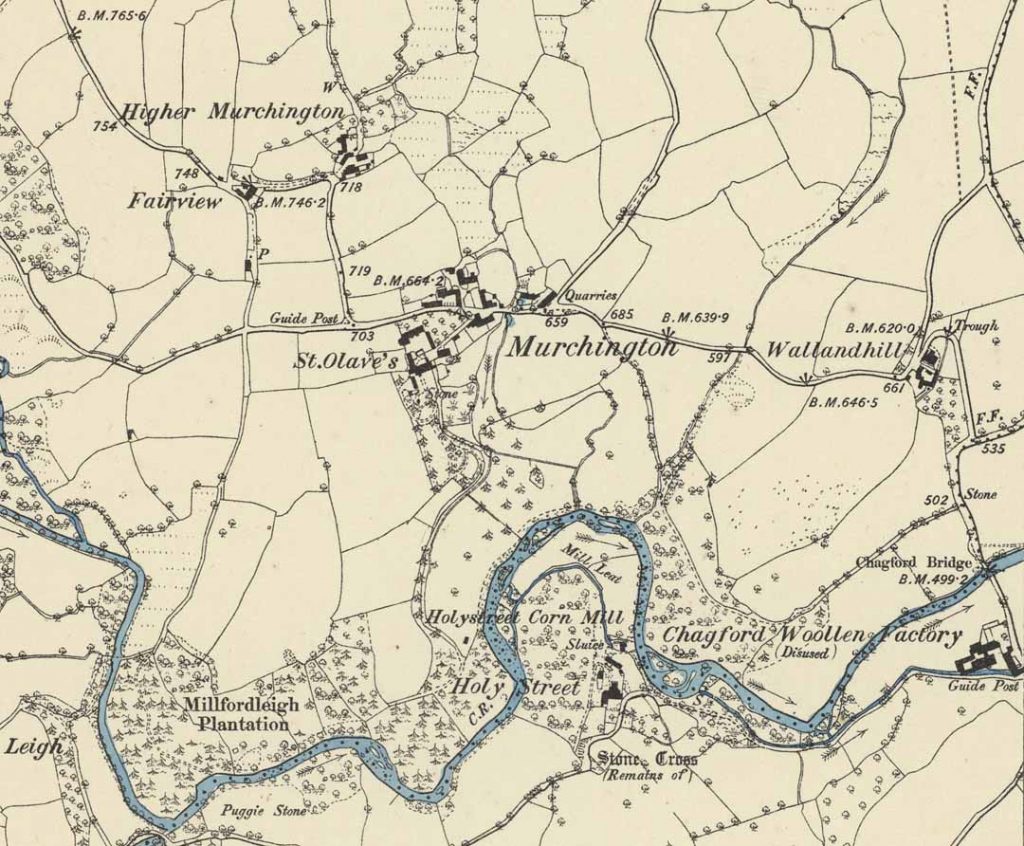 For much of the nineteenth century, Murchington was also significantly more populous than the village of Throwleigh, thanks in part to its proximity to the small town of Chagford with its textile factories and growing tourist business. In 1841 there were 158 people living in Murchington, compared with just sixty in Throwleigh. Those passing through Murchington on their way to Gidleigh might be surprised (then and now) that the handful of homes on each side of the road could house so many people. Much of Murchington is slightly hidden from the incurious traveller who sticks to the road. Besides the main farm there have long been a cluster of dwellings at Higher Murchington, to the north of the main Gidleigh road, and the narrow lane that disappears beyond the post box in the centre of the hamlet leads to a further group of cottages: St Olaves―a hamlet within a hamlet. Until the late 1860s there were even more cottages here.
In addition we can see from the census records that households were much bigger in the mid-nineteenth century than they are today. In 1841 farm labourer George Dicker, 55, headed a household of nine. This included his wife and their son and three daughters aged between 15 and 20, an older couple (another farm labourer and his wife) and a 5 year old child with a different surname (possibly a grandchild born out of wedlock). Next door, local farmer John Dicker aged 40 (possibly a relation) headed a household of seven including his wife Johanna, their three children and two farm hands. John Dicker's three-year-old son William lived and farmed in Murchington for the rest of his life. He went on to have four daughters by two wives and in 1909 was buried in Throwleigh Churchyard next to his first wife Susan Litton Nichols, who had died in 1869.
The local economy, like that of much of West Devon, was overwhelmingly agricultural, but the hamlet also boasted a pub, a blacksmiths and for a while a working quarry. There was talk of Murchington being more unruly and irreligious than most Devon settlements, presumably because it lacked the powerful controlling influence of a big landowner or resident parson. But things began to change from the late 1860s with the arrival of a succession of wealthy, non-resident landowners attracted by the hamlet's remote beauty and the sporting possibilities of its upland river and dense woodland.
First on the scene was the Reverend John Ingle, an Exeter-based Anglican priest associated with the High Church (opponents said 'papist') Oxford Movement. Ingle was the vicar of St Olave's Church, a Saxon foundation in the medieval heart of Exeter, when, in 1868, he bought fifty acres of Murchington farmland, including farm buildings and three rows of labourers' cottages. He renamed his new estate St Olave's in honour of his parish church (though the hamlet within a hamlet survives St Olaves, it has since mysteriously lost the apostrophe).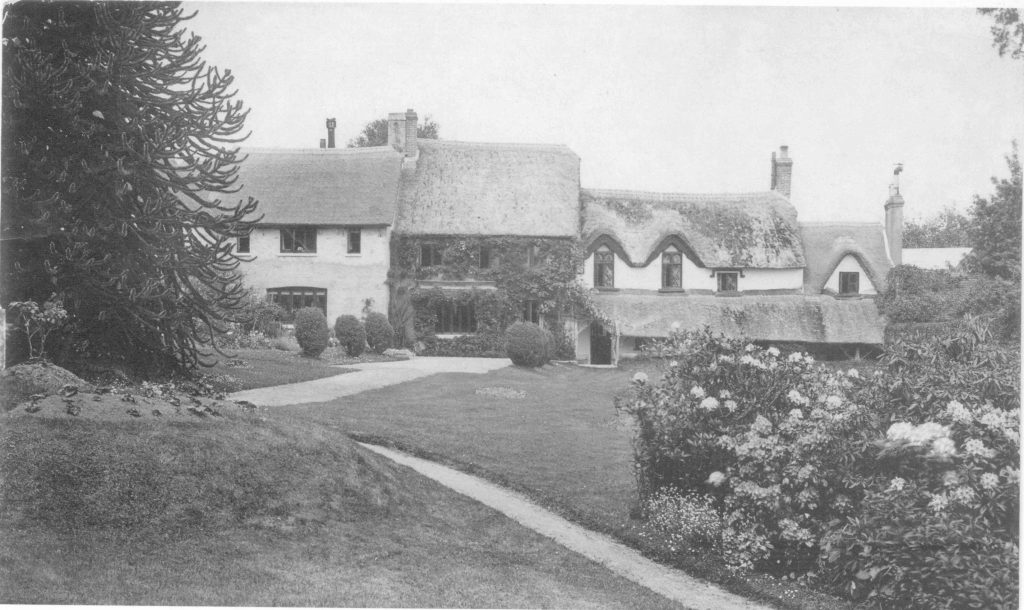 Ingle demolished many of the properties he acquired, presumably evicting the poor tenants, and renovated the finest cottages to provide a spacious country retreat (although according to the Chagford Parish Magazine of June 1868, his original plan had been to build 'an elegant Elizabethan mansion … on a lovely site overlooking the vale of Holy Street'). The 1840 Throwleigh Tithe map records a range of properties called 'Waste Houses Court' on precisely this site―their swift demolition by Ingle may have been intended to facilitate his grand building plans. Ingle quarried stone from the site and used this to help build the enormous granite retaining walls that can still clearly be seen from the top of Meldon Hill. He also began planting specimen trees imported from around the world, starting the collection that now includes the stands of Giant and Coast Redwoods, Grand Firs and Douglas Firs that are equally visible from afar. Part of this collection of specimen trees can also still be seen in the adjacent Milfordleigh plantation, then part of the estate but now owned by the National Trust.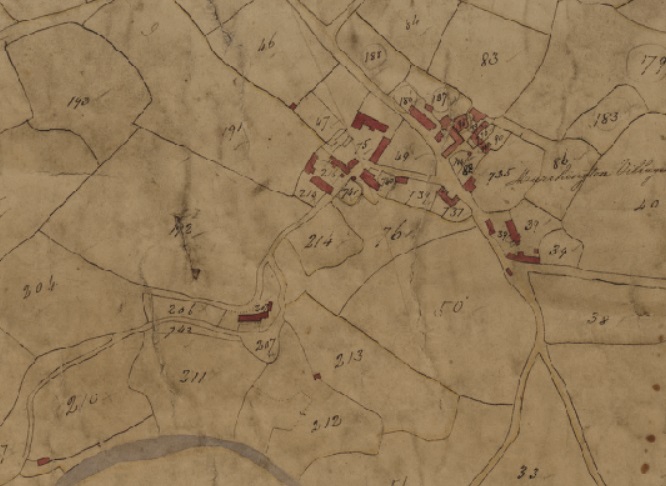 Ingle sold up within a decade, never realising his ambition to build a fine mansion. He was succeeded by a series of other rich clergymen who further developed the estate as a gentleman's country retreat. They used their wealth and influence to strengthen the Church of England's presence in the hamlet, including supporting the construction of Murchington's small Anglican Chapel, finished in 1890. The Sutton family, who owned St Olaves from 1907 to 1960, were also strong supporters of Anglicanism―indeed Edmund Sutton bought the right to appoint Throwleigh's clergy at the same time as he acquired his Murchington estate.
However, the family's influence in the district waned considerably after Edmund's son Ralph suffered a stroke in the early 1950s. Between 1954 and 1971, the estate was gradually broken up, returning more or less to its original constituent parts. Milfordleigh plantation was sold off, Murchington Farm lost its land-holdings, the farm's outbuildings became separate dwellings, and the various cottages and outbuildings that had formed the Suttons' private residence were reconstructed as four separate properties.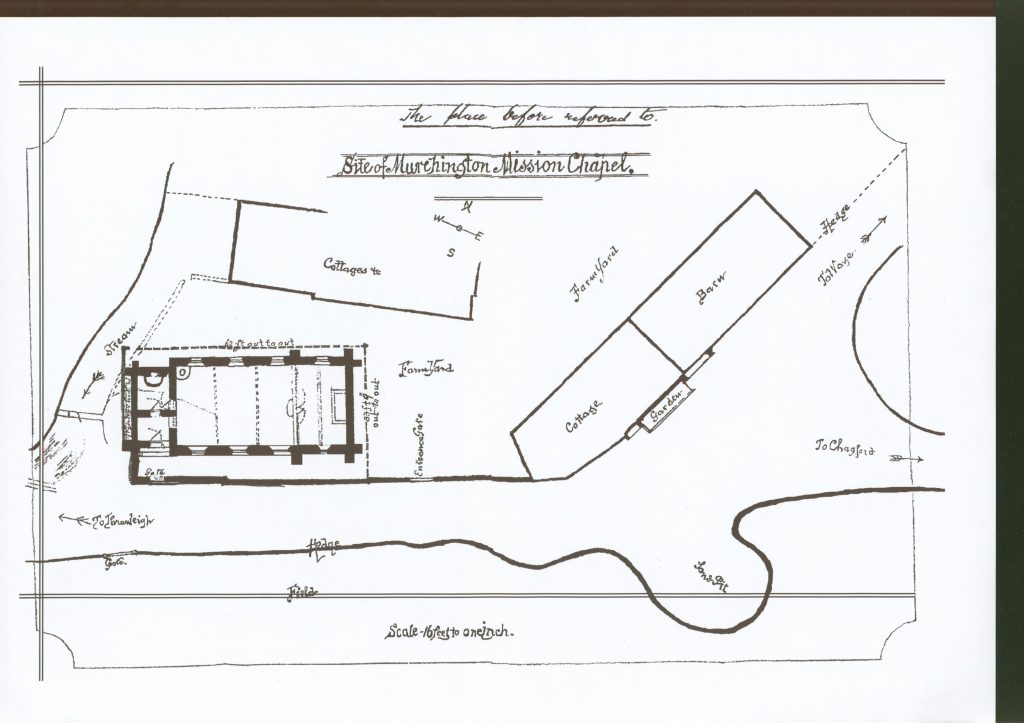 Murchington Chapel also experienced a re-incarnation with the passing of the Suttons. In 1975 it was finally decommissioned as a place of worship and sold for redevelopment. Sympathetically restored, it is now a private residence and the only holiday let in the hamlet.
But if Murchington has not succumbed to the curse of second homes, it has nonetheless changed drastically in recent years. In the nineteenth century there were at least five separate farms in Murchington, mostly small-scale mixed farms of between twenty and seventy acres run by local families with deep roots in the area. There was also a pub and a small shop. Today there is only one working farm, and a small-holding – the other farms, along with the old pub, have become private residences for people drawn to the area by its beauty and relative tranquillity; just as Ingle, Radford and the Barkers had been in the nineteenth century.
Jon Lawrence
(drawing on research by Colin Burbidge and Judy Moss)
Quick Links:
Note: these are zoomable maps – instructions on their use are here.