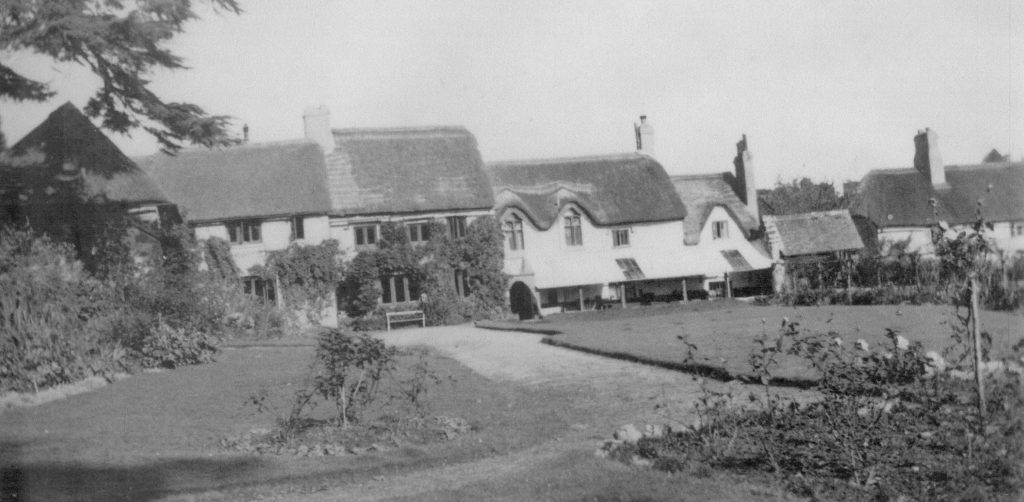 The St Olaves estate was established in 1868 when a local vicar bought fifty acres of Murchington farmland, including farm buildings and three blocks of labourers' cottages. The Reverend John Ingle, was an Exeter-based Anglican priest with pronounced High Church leanings. He was the vicar of St Olave's Church, a Saxon foundation in the medieval heart of Exeter. Ingle renamed his new estate St Olave's in honour of the ancient parish (Saint Olave [or Olaf] was King of Norway from 1015 to 1028 and was widely credited with establishing Christianity in Scandinavia).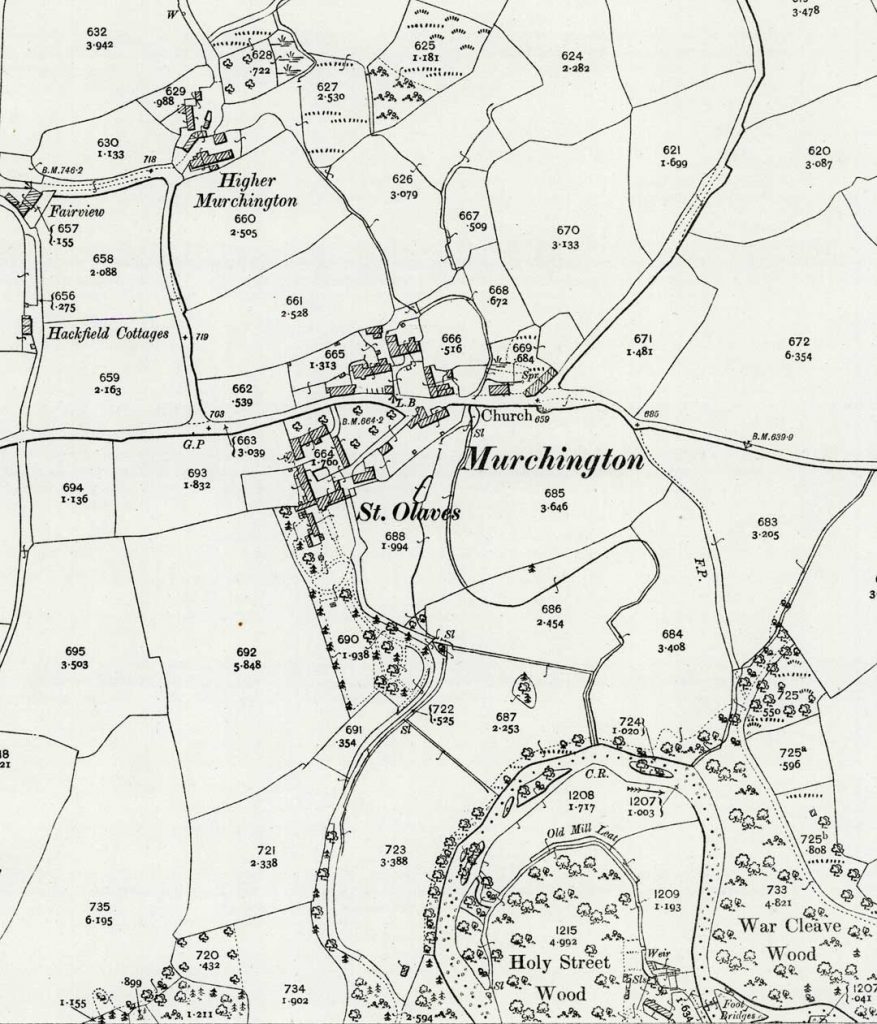 Ingle was widowed in 1874, remarrying in 1877. In the same year he sold St Olaves to fellow cleric and Oxford graduate, Rev. W.T.A. (William) Radford, apparently to settle his heavy debts. Radford was the rector of Down St Mary, some 15 miles away and a man of considerable means, having already spent large sums transforming Down St Mary into something of a model village. He added additional land to the gardens at St Olaves and continued Ingles's ambitious programme of tree planting. There are also signs that he further improved the house itself, adding gothic style touches to the seventeenth-century cottages which are similar to examples to be seen in Down St Mary.
Radford played a key part in the movement to build an Anglican Chapel in Murchington, which had long been remote from the influence of the parish church at faraway Throwleigh (many local residents instead attended the tiny Bible Christian (now Methodist) Chapel at Providence, est. 1839). Murchington's new 'Mission Chapel' was consecrated in 1890, and was accompanied by a heated correspondence in the Devon & Exeter Gazette between the Rev. Spicer of Throwleigh and John Ingle, who had refused to help with the project after his offer of land had been rejected. Spicer attacked Ingle for his vainglorious projects at St Olaves, declaring that:
[He] was one of the biggest landowners, he made the place attractive to Peer's sons, Governors of the Bank of England, GWR Directors, Large-acred country squires, Big London Merchants, Prebendaries, all with carriages, horses, servants and so forth and yet [of] all this pomp, wealth and circumstance of whose departed glory there remaineth not a vestige after 17 years. Mr. Ingle never seems to have held a service, collected a penny, or contributed even a humble half a crown towards it [the Chapel] [Devon & Exeter Gazette,25 Nov. 1890]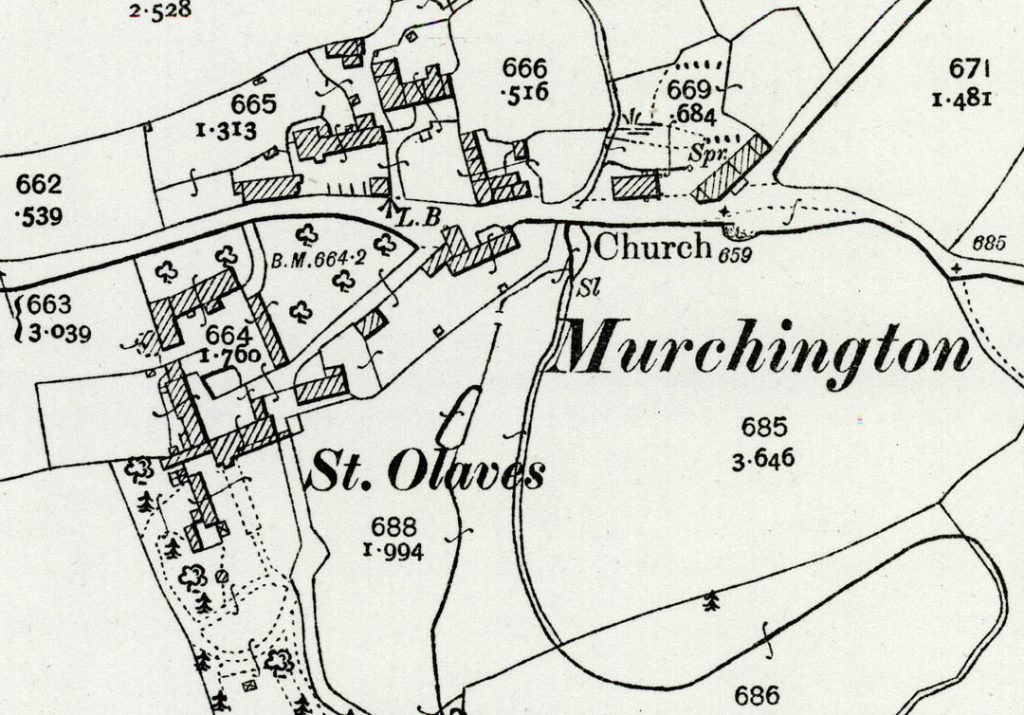 Radford died six years later, and after a brief period in the hands of his eldest son, St Olaves again changed hands, being bought by the wealthy Rev. Alfred G. Barker and his wife Agnes, who had strong connections to the area despite residing primarily in Hampshire. Barker already owned the fishing and hunting rights to extensive areas of land along the upper Teign more than a decade before he acquired St Olaves. The Barkers enlarged the main house by building a two story extension at its western end. They also enlarged the estate–Agnes was independently wealthy and when she bought the adjacent Murchington Farm and its land the Barkers controlled 140 acres, although much of this continued to be rented to tenant farmers.
Alfred died in late 1906 and within a few months his widow had sold both the estate and all its contents. The new owner was Edmund Sutton KC, a prominent Manchester barrister, and his American wife Susanna. Like Ingle, the Suttons were strong Anglo-Catholics, and they purchased the advowson (clerical patronage) of Throwleigh parish from the Lord Chancellor at the same time as they bought St Olaves. Their aim seems to have been to secure the position of Throwleigh's flamboyant Anglo-Catholic vicar Rev. George Gambier Lowe as parish priest. When in residence the Suttons maintained a large staff at St Olaves, all of whom were expected to attend the local Anglican chapel. The Suttons appear to have moved permanently to Murchington during the First World War, after Edmund's retirement, although within a few years he had suffered a serious mental breakdown and was confined to a nursing home near Exeter.
Edward Sutton died in 1922, but the family continued to own St Olaves until 1960. Although they now lived principally in London, the Suttons continued to spend long periods in Murchington. However, their influence in the hamlet waned considerably from the early 1950s when Edmund's son Ralph, also a barrister, was incapacitated by ill-health. Between 1954 and 1971, the estate was gradually broken back up into its original constituent parts. Milfordleigh plantation ended up in the hands of the National Trust, and the various listed properties that had made up the St Olaves sub-hamlet were reconstructed as individual dwellings. The structure of Ingle's garden survives, but now worn by time and supplemented by the incursions of nature and the plantings of subsequent generations. The legacy of Dr Richard Padley is probably most notable in this respect. He acquired the bulk of the old garden in 1971 and proceeded to plant extensively with specimen trees and shrubs from all over the world, just as Ingle had done a hundred years before.
Quick links:
Note: these are zoomable maps – instructions on their use are here.